Subscribe to Macworld Australia Magazine
Australia's premier source of Apple, Mac, iPhone, iPod and iPad related news, rumours, reviews and more.
Do you have a promo code / coupon? Enter it here to see discounted prices:
Digital Subscription
Print Subscription
1 Year Subscription

12 Issues
2 Year subscription

24 Issues
Subscribe today and RECEIVE!
Get a free Sleeve Plus courtesy of Acme Made


The Sleeve Plus by Acme Made San Francisco
A simple, elegant solution to carry your everyday essentials. It features a unique soft-bubble padded lining for extra style and protection. The two front metal zip pockets offer organisation for your iPhone, two pens and ample space for power cords, cables and even a small notebook. Finally, a sleeve with true storage. RRP $79.95
View Terms and conditions
Bundle Subscription
Merchandise
Digital Merchandise
Mountain Lion Superguide Special
This is a digital version of the Mountain Lion Superguide.
Macworld Australia's Mountain Lion Superguide covers everything you need to know about the latest Mac operating system.
From OS X 10.8 installation guides to dealing with OS X recovery, the Mountain Lion Superguide will make your transition from an older Mac OS or Windows quick, easy and painless. 
Plus we have a number of Mountain Lion tips and tricks; we show you how to efficiently run Windows on your Mac, create a bootable installer drive and much, much more.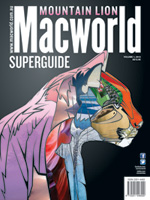 If you are experiencing problems with this site or have questions about your subscription please visit our Subscriptions FAQ/Help page.
Prices in Australian dollars (AUD)
For bulk order queries, freecall 1800 804 160 (International: +61 3 9948 4979) or email subscriptions@niche.com.au.