Subscribe to Macworld Australia Magazine
Australia's premier source of Apple, Mac, iPhone, iPod and iPad related news, rumours, reviews and more.
Macworld Australia is the only magazine catering exclusively for the needs of the local Macintosh
community. Augmenting the skills of expert local contributors with the resources of the US edition, it combines in-depth, lab-based product reviews and detailed features with timely news, reasoned opinions, and practical advice. Wide-ranging content covers the needs of business, education and home users.

Do you have a promo code / coupon? Enter it here to see discounted prices:
Digital Subscription
Please click on a logo to view digital subscription.
Print Subscription
View Terms and conditions
Bundle Subscription
Merchandise
Digital Merchandise
Mountain Lion Superguide Special
This is a digital version of the Mountain Lion Superguide.
Macworld Australia's Mountain Lion Superguide covers everything you need to know about the latest Mac operating system.
From OS X 10.8 installation guides to dealing with OS X recovery, the Mountain Lion Superguide will make your transition from an older Mac OS or Windows quick, easy and painless. 
Plus we have a number of Mountain Lion tips and tricks; we show you how to efficiently run Windows on your Mac, create a bootable installer drive and much, much more.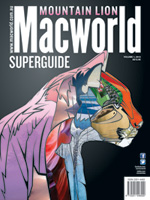 If you are experiencing problems with this site or have questions about your subscription please visit our Subscriptions FAQ/Help page.
Prices in Australian dollars (AUD)
For bulk order queries, freecall 1800 804 160 (International: +61 3 9948 4979) or email subscriptions@niche.com.au.